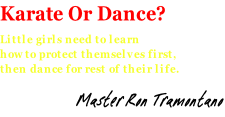 West Boca Karate is back! Same great location since 1986. What has changed are our class times. Both Mondays and Wednesdays 6:15 to 7 PM for children and young adults. $235 first month, then $175
Adults are on the same days. Times 7 PM to 7:45 pm. Same pricing as above.
New to WBK, 2 types of home-based training is made available. Training at your own pace with our video training platform for $85 a month. Want to accelerate your training with online videos and reviews once a week by Master Tramontano is now available. $185 a month. Call 561-629-6005
Black Belt advance classes are also Mondays and Wednesdays from 7 to 7:45. Register in person or on the phone by calling Linda at 561-482-9049.
We all see what is happening in the world. Give yourself and your children an edge. Most of you already know who we are and have trusted us for all these years. Please let everyone know we are still here. Facebook... looks up to see what people are saying.West Boca Karate has nothing but stellar reviews. Stay on our FB for updates and announcements. Thank you. https://www.facebook.com/westbocakarate
What a Virtual Tournament looks like for parents to use or business owners that want to provide extra services for their students or clients.